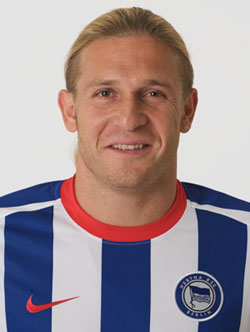 Liverpool expect £5m profit on summer sale to Spurs?

Andriy Voronin's recent form on loan at Hertha Berlin has not gone unnoticed by eagle-eyed Spurs boss Harry Redknapp.
According to insiders, Redknapp is ready to pounce in the summer transfer window to purchase the 29-year-old Ukraine international from Liverpool for £5m.
The Reds would then make a healthy profit on a player they signed on a Bosman in the summer of 2007 on a four-year contract.
Masih lagi tentang pemain sensasi kita Voronin. Dengan prestasi yang meningkat disamping membawa pasukan barunya berada di takhta Bundesliga, bakat beliau telah diperhatikan oleh banyak pihak. Nampak gayanya Rafa akan menang loteri apabila kali ini Totenham akan bersaing untuk mendapatkan Voronin. Dinyatakan Redknapp bersedia membelanjakan 5juta pound untuk mendapatkan pemain yang Rafa bawa dari Bayer Leverkusen dengan percuma. Ini satu perkembangan yang baik kerana khidmat beliau di Anfield sudah tidak diperlukan lagi walaupun pengganti Keane masih belum dicari.