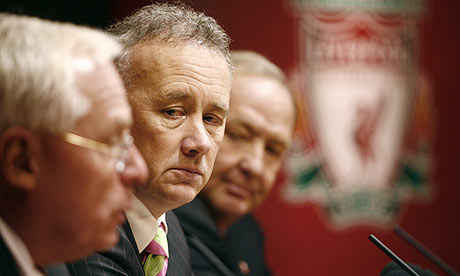 Liverpool FC Chief Executive Rick Parry will leave Anfield at the end of the current season, the Club has confirmed today.
Mr Parry, 54, will stay at Liverpool until the end of this campaign in order for a smooth transition to take place.
An accountant by profession, Mr Parry joined the Reds from The FA Premier League in 1997. His tenure reached a high point in 2005 when LFC secured their fifth European Cup trophy.
Liverpool Co-Chairman Tom Hicks said today: "Rick's commitment to Liverpool Football Club is epitomised by his desire to ensure that this transitional period is managed efficiently and we are grateful to him for his help. He will always remain a friend of the football club."
Fellow Co-Chairman George Gillett added: "I would like to thank Rick for his significant service to the Club and the assistance he has given us since we joined Liverpool. He has been integral to the club's success over the past decade and leaves with our best wishes for the future."
Rick Parry said; "I have had 12 very exciting years at Liverpool and am extremely proud of what has been achieved by the Club over that period. The victory in Madrid was a wonderful reminder of the many high points we have experienced and adds to the moments that make Liverpool and its magnificent fans so special.
"It has been a privilege to serve the Club and as a lifelong supporter I wish the owners, Rafa, the players and the wonderful staff all the very best for the future. I will be leaving at the end of the season knowing that the Club remains strong and with a set of supporters who deserve success in all that Liverpool does."
The Board will initiate a search for a new Chief Executive and will update supporters and other stakeholders when appropriate.

Memang suatu kejutan bukan. Dan apakah ini tanda2 bahawa Rafa telah memenangi tuntutan beliau dan pemilik telah bersetuju. Kalau ini isyaratnya tidak lama lagi pasti kita akan dapat mendengar berita yang Rafa akan menyambung kontrak beliau seumur hidup (saja je tambah).