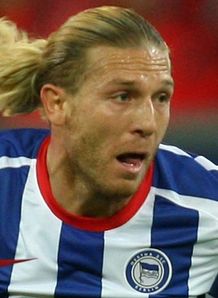 FRANKFURT (AP) - Andriy Voronin shot Hertha Berlin to the top of the Bundesliga when he scored both goals in a 2-1 victory over defending champion Bayern Munich on Saturday.
Hertha moved past Hoffenheim, which lost 4-1 on Friday at home to Bayer Leverkusen. Bayern, which lost its second in three games, dropped to third.
"We run, we fight, we are a unit," Hertha's coach Lucien Favre said.
Voronin scored in each half of an entertaining match in Berlin, while Miroslav Klose notched Bayern's only score, with an outstanding Jaroslav Drobny in Hertha's goal.
Hertha had been winless against Bayern in their last 14 games. The last time it beat Bayern at home was in December 2001. The team from the German capital moved to the top for the first time since October 2006.
Bayern could drop even further if Hamburg beats Arminia Bielefeld on Sunday.
"My players made the wrong decisions at the key moments," Bayern coach Juergen Klinsmann said.
Hertha has 40 points after 20 games, Hoffenheim 39, Bayern 38, Leverkusen 36 and Hamburg also 36.
Nampaknya kehadiran Voronin ke Bundesliga telah mengembalikan prestasi dan keyakinan beliau setelah berhijrah dari sana ke EPL. Dengan persembahan beliau yang meningkat dan baik seperti ini pastinya Herta Berlin tidak akan membiarkan Voronin kembali ke Anfield musim depan. Oleh itu jika Herta mendapatkan Voronin pastinya liverpool akan mendapatkan pemain lain yang lebih baik dari beliau untuk menjadi pemain yang boleh menjadi backup Torres.
Sekurang-kurangnya dapatlah kita faham yang Voronin adalah pemain yang baik tetapi tiada potensi untuk bermain di EPL kerana tidak dapat menyesuaikan diri dengan suasana permaianan pantas penuh dengan aksi fizikal yang lasak.